March 30, 2012 01:38:56 PM
: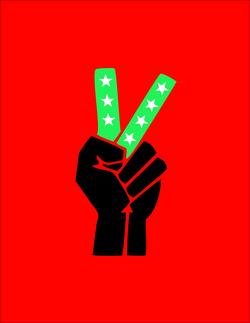 :
<i>Empower Peace</i>, 2011
This image discusses the struggle, and possible end of war between the US and the Middle East. I reconfigured the empower fist, most widely known from the civil rights movement here in the United States to show a peace sign also symbolic of that time period.
If you compare a typical flag of a middle eastern country, the colors tend to be a mix of red, green, black, and white. There may also be a star within the design. The American flag shares the red and white colors and also the star imagery. I combined the green from the middle eastern flags and the blue from the american flag to represent unity in turquoise.