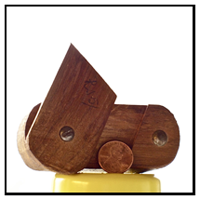 Kurt Andersen met Rob Walker, co-editor of Significant Objects, at Vintage Thrift in Manhattan to pick out three objects for our contest. Rob gravitated to this thing: "A block of wood, rounded at each end, with screws; it opens; it has no obvious function or decorative property whatsover." Kurt thinks it looks "homemade-ish. ... It must have cut something?" he offers. It is marked faintly with something that looks like "Rs 5/" in pencil.


→ UPDATE: Our contest has closed, but you can read all the entries below.
HOW TO ENTER:
• Write a backstory for the object: it can be in any form you choose — short story, encyclopedia entry, poem, comic, etc. (
Here are some ideas to get you started.
)
• Keep it short: we suggest around 500 words.
(Entries exceeding 1,000 words will not be considered.)
• Feel free to write stories for all three objects — but only one story per object will be considered (the first submitted).
• The deadline to be considered for our contest is
11:59 ET April 8, 2012
.
Click here for the complete rules and regulations for the contest.