Inside the New York Times' Photo Morgue, A Possible New Life for Print
Print archives that were once the heart of many newspapers have gone the way of floppy disk. But at the New York Times, the technology that has threatened to kill the morgue may just save it
Monday, May 07, 2012
It's simply called "the morgue."
It is a cramped basement annex, stacked high with metal filing cabinets, full of three-fourths of a million pounds of old newspaper clippings and photos, going back 160 years.
To get here, one must leave the shiny glass tower that is the 40th Street headquarters of the New York Times, walk a half-block down the street and descend three levels below the sidewalk. Here, in a nondescript tower, she will emerge from a dirty elevator, walk past a janitor's closet, a giant, rusted pump contraption with running water and finally reach a pair of metal doors. There are glue traps with belly-up cockroaches in the corner.
"I swear, we haven't taken you to a torture chamber," a Times photo editor quips, as she walks through the double doors.
There is no computer in the morgue. No Internet service. No cell reception. If a person were to die here – perhaps by an improperly secured two-ton cabinet – it's safe to say it would take days for anyone to find his body.
Welcome to the most extensive archives repository of the most respected newspaper in the world. 
The morgue's keeper, a tall, dapper man named Jeffrey Roth, greets his guests in a collared shirt, neck-tie, brown plaid suit jacket and slacks. He is impeccably dressed for his surroundings.
In four hours, he laid out the intricacies of how the archival repository once worked, and how it still works, today: clippings and photos are filed into neatly organized manila folders, organized by subject and biography, then recorded — first by hand, then by typewriter, then no longer recorded at all — onto a cards. At the morgue's height, there were as many as two dozen clippers, filers, indexers and counter-clerks, sifting through 16 copies of the paper each day, so that when a reporter needed background research, he had a place to go.
The morgue wasn't always housed in a tomb, of course — though it's said to have gotten its name because it was the place that housed dead stories. But long before the days of Google, newspaper morgues were considered the heart of any newsroom; a place where history was chronicled, clip by clip, photo by photo.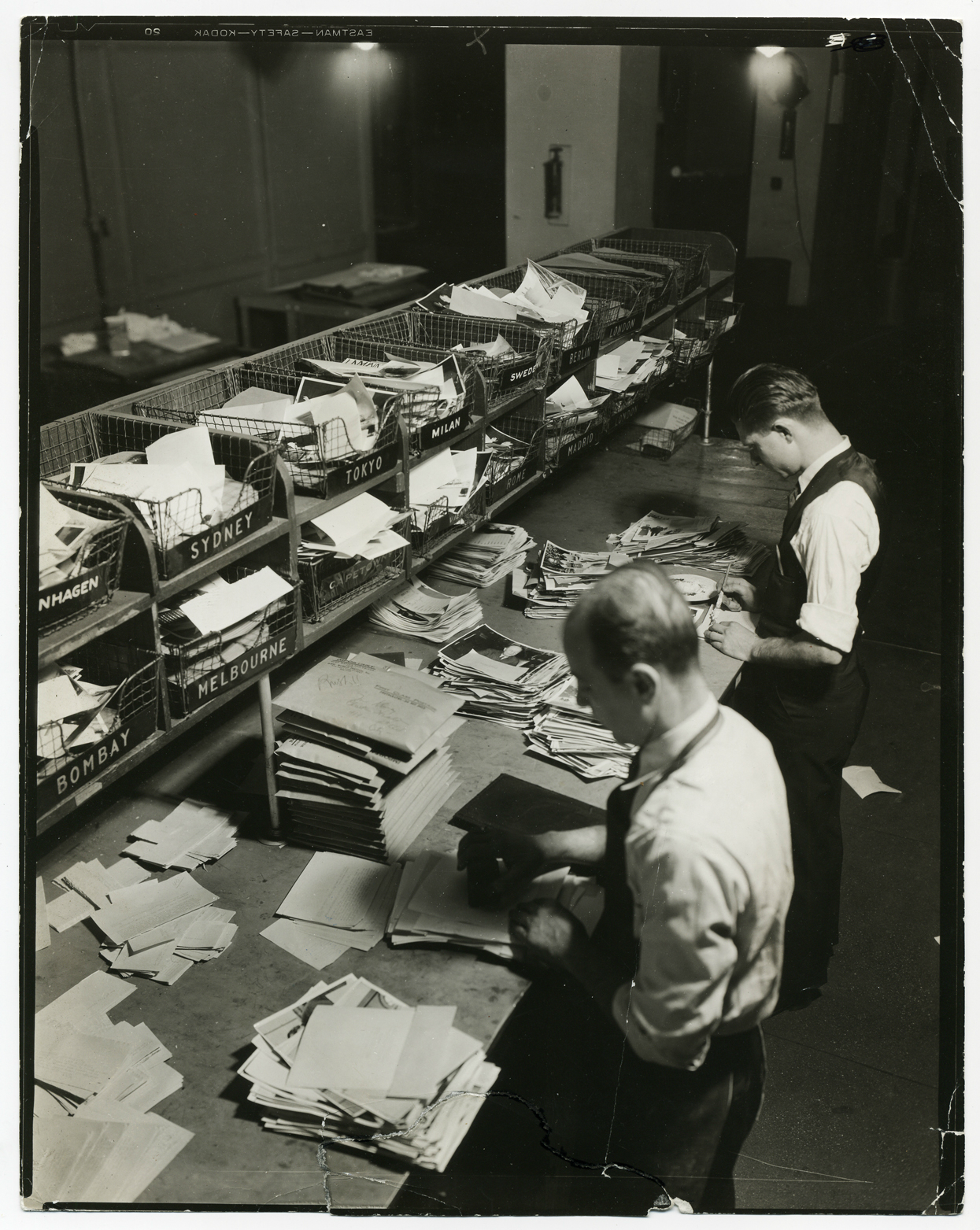 It was here, in the morgue, that on the night of April 15, 1912, two morgue keepers helped the Times scoop the world in its coverage of the Titanic — digging up hundreds of biographical histories, construction data and disaster records that no other paper had bothered to save. It was the morgue that housed the original print of Lyndon Johnson being sworn in as president, for the first time — Jackie Kennedy, in a blood-stained suit, by his side.
And it through the morgue that figures like Jack Dempsey, Charles Lindbergh, and Marilyn Monroe would pass—offered up their biographical folders to sift through by the publisher himself. "As all newspaper men know," the Times wrote in 1970, "the morgue is anything but a dull place."
(Photo: Workers sorting images in the morgue in the 1930s. Courtesy of the New York Times.)
And yet, over the years, as the newsroom has gone digital, as the staff of the morgue has shrunk from more than 20 to one, and moved deeper and deeper below ground level, the morgue has, slowly but surely, been forgotten among the shiny new computers, budget crunching and fancy new digs. ("Out of sight, out of mind," as Roth puts it.) Many of the young Times reporters don't even know it exists — despite working floors above it each day.
To put the rarity of the Times morgue in perspective: the Daily News, "New York's Picture Newspaper," tossed much of its photo archives around the time it moved into its new office, in the mid-1990s. Time magazine's fabled library was sent to New Jersey a decade ago, and Newsweek's research library was mostly donated to the University of Texas—though not before dozens of boxes were accidentally carried off to the dump.  
"I think we can agree that the first responsibility of [a newspaper] is not to its picture morgue but to today's news, and it is no secret that the old structures of news gathering are under stress," said Peter Galassi, the longtime curator of the MoMA, which keeps a number of Times photos in its permanent collection. "The more attention and resources we devote to the past, the less remains for the present."
The cost of maintaining the morgue includes Roth's salary and renting the 3,300-square foot space, comparables of which go for about $8,000 a month in Midtown.
Michelle McNally, the Times AME for photography, said the future of the morgue is a "continual worry."
"It's costly, for sure," she said." On the other hand, it is invaluable. That's what it comes down to."
The Times morgue has managed to survive, yet is constantly fighting for its life: faced with the implicit question of whether, in the digital age, physical archives even make sense.
"It's a perennial tension, and it goes back decades," said David Dunlap, a longtime reporter who is the unofficial in-house Times historian. "The morgue takes up a lot of physical space, and in Midtown Manhattan, physical space costs a lot."
The Times stopped clipping articles in 1990, and since then, 30,000 books, dozens of filing cabinets and hundreds of boxes have been donated or tossed, says Roth. Today's morgue holds about 500 cabinets (he's counted), housed in a space that is the size of a large(ish) one-bedroom apartment.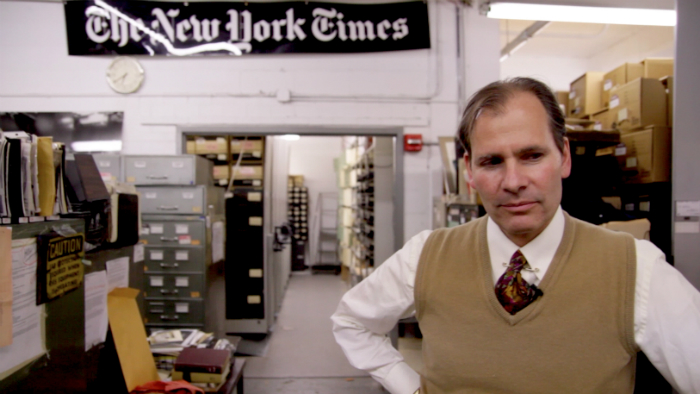 (Photo: Jeffrey Roth, keeper of the New York Times photo morgue. Jessica Bennett for WNYC/Tumblr)
The Keeper of the Morgue
The man who's kept the morgue in business for the past two decades — though he'd never say that himself — is 53-year-old Roth. Roth's job has morphed from counter-clerk — back when the morgue actually had a counter — to one-man-show over the years, that now includes electronic indexing, sweeping the floors and hammering out the locks when a cabinet gets jammed.
Roth didn't have what you might have called a traditional reporting background. He joined the morgue in 1993, after visiting to research his distant cousin, Times reporting legend Meyer Berger. He said he's worked as a stock-broker, landscaper, art dealer, cross-country truck driver, and a narcotics search agent at JFK — a skill that came in handy for the Times when TWA Flight 800 went down (he knew the onboarding and offboarding procedures).
Ask Roth about almost anything — New York City explosions; feminist history; Yeats; Iran — and he will know the answer. It's as if the wisdom of the morgue has filtered into his blood.
Over the years, Roth has stumbled upon a long lost engagement photo of Diane Arbus, and the first-ever published photo by the late photographer W. Eugene Smith, known for his vivid images during WWII. (The photograph, of a latrine, was taken when Smith was 16; his parents' Witchita, Ks., address is hand-written on the back.)
A few years back, Roth discovered a set of unseen photos of Jimi Hendrix at Woodstock (mislabeled as "Hendricks") and an unpublished contact sheet of the Stonewall Riots – the only known images of the uprising's finale that had been lost inside a folder labeled "NYPD Tactical Unit."
"There are things in here that are nowhere else," Roth says, using the favorite word of morgue-keepers throughout the years — "serendipity" — to describe the morgue's allure.
Roth doesn't like to make a big deal out of any of these tiny miracles — except when he's fighting for the life of the morgue.
In 2007, when the morgue space shrunk by half, Roth drove his car in every Sunday, and carted 5,000 books back to a storage space in Long Island, where he housed them until he had the space to move them back.
(Photo: Inside the New York Times' photo morgue. Jessica Bennett for Tumblr/WNYC)
When the Times' business side asked him to show possible buyers the space, in 2009, he wrote a forceful letter to one of the managing editors – and the morgue, he says, was suddenly moved back over to the news side (and preserved, for now).
Roth knows the morgue is of a different era. Its smell alone: dried newspaper ink, photo chemicals, linen paper. If a person were to try to search the card catalog, they'd immediately come across some peculiarities. "Space," as in the space program, is still listed under "Rockets." "Television" lives under "radio." And African-Americans are still, somewhat jarringly, filed under "Negroes." (There was a big fight over that one, Roth notes, but in the end, there were simply "too many folders to change.")
It is a relic of an era past, and yet, Roth says, it is also a window into how we see the present—one that, for all the benefits of online technology, simply couldn't be gleaned from a computer.
Dunlap, who has worked at the Times for nearly four decades, remembers seeing the printed copy of the Times first story on AIDS, in 1981, under the headline, "RARE CANCER SEEN IN 41 HOMOSEXUALS." It was a skinny column on the inside of the paper, eclipsed by a giant ad for the Independent Savings Bank. "Gay" hadn't yet been added to the Times' style manual. And yet the placement of the story said it all.
"From a historical perspective, a collection like this is priceless," said Andie Tucher, a professor of journalism history at Columbia University. "But it also gives you something that has nothing to do with scholarship. To hold a newspaper in your hand that your great grandmother herself might have read, especially in a world that is today so focused on speed, there is something very human and visceral about it."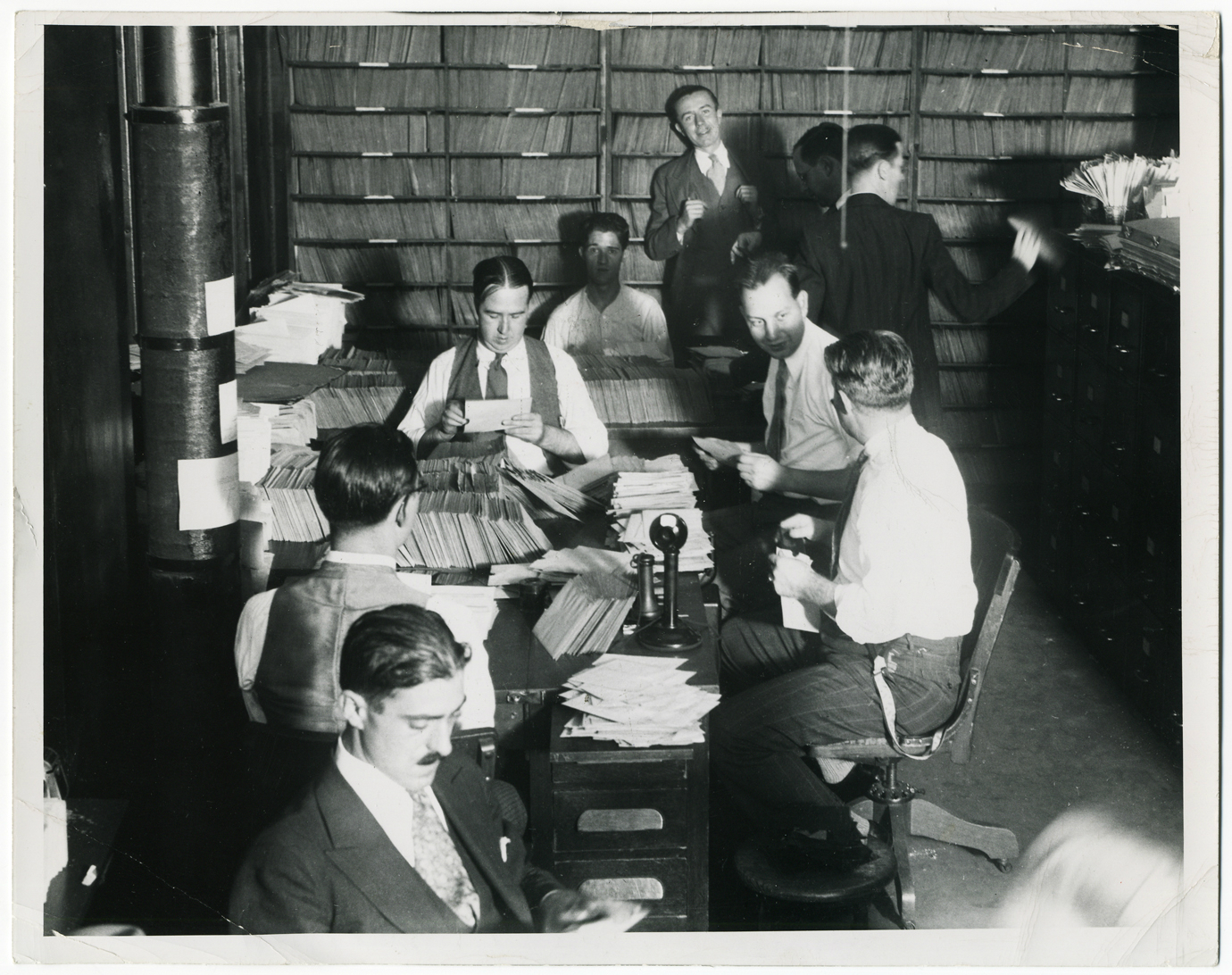 (Photo: Workers sorting images in the morgue in the 1930s. Courtesy of the New York Times)
A Possible New Life for the Morgue
The morgue may conjure images of decay and death in its name — dead stories, dead politicians, the death of, dare we say, print — but to anyone who's had the luck of spending any time in it, its value is clear: a place of living, breathing history that remains untouched by time.
Saving graces work in mysterious ways, however, and today, the morgue may be saved by the same force that for so long has threatened to kill it.
Since September 2010, the Lens blog at the Times has featured an occasional series of archival photos, dug up from the morgue by Times' photo editor Darcy Eveleigh. From black-and-white images of Antarctica to the art of window washing, getting the photos print-ready took some work: the images had to be repaired for tears and cracks, retouched and scanned, markings erased, sometimes whited-out limbs had to be put back in.
After just a few entries, the series became so popular that it led to a knockoff site out of the San Francisco Chronicle. Readers began sending in their own photos. And suddenly, the word "morgue" — long forgotten around the newsroom — had found new life.
Lexi Mainland, the Times' 33-year-old social media editor, heard about the project, and proposed a Tumblr, where the photos could have a permanent home. Six months later, the "Lively Morgue" was born, with new entries every week, spread virally throughout the web.
There was a warehouse full of mannequins. A moose blimp over Times Square. Nixon's reflection over a dozen television screens. Each image was shown with the backside of the photo, complete with the photographer's notes, the price paid for the print, and — if it was published — a clipping of the original caption.
"I think the value of the morgue is kind of akin to the value of the historic record of Times journalism in general – to my mind, priceless," said Mainland. "As we get more and more rooted in the world of pixels, I think it's critical that we find ways to bring important collections of information with us as we go."
She adds: "If only Tumblrs could have a smell."
It's a noble attempt, but can a website really save an archive?
Even if the Lively Morgue were to post 10 new archival images every week, it would take until the year 3,935 to post every image housed in that vault.
"You can't touch digital," said Eveleigh, the Lively Morgue's curator, sifting through a photo drawer. "It's easier to look at and it's faster to look at, but it feels, in a weird way, that this" — she holds up a print of Fidel Castro — "is more permanent. Here we are, 100 years later, and this is still here."
This story was written and produced by Tumblr in partnership with WNYC. Check out Tumblr's new editorial blog, STORYBOARD.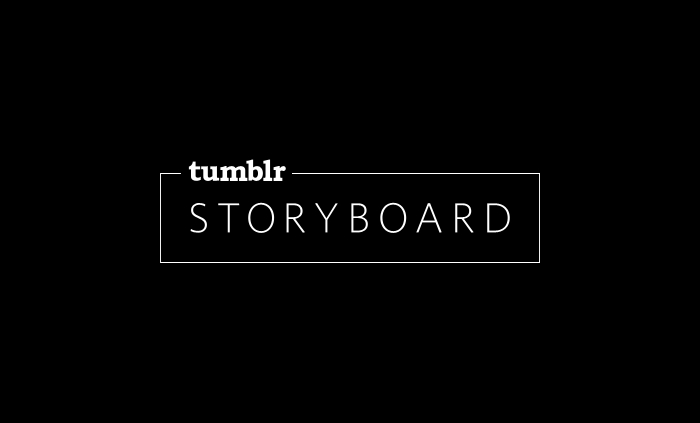 More in: