"

"People aren't sure what happened but they know that this was a man-made catastrophe there are people who caused bubble and crash."

— Attorney General Eric Schneiderman
The Attorney General of New York is one of the most powerful law enforcement jobs in the country. But stepping into the shoes recently worn by now-Governor Andrew Cuomo and Eliot Spitzer can't be easy. Each man had a loud voice and a powerful presence.
A little more than one year into the job, their low-key successor, Eric Schneiderman, has nonetheless established a national profile and won many fans in politically liberal circles.
When MSNBC host Rachel Maddow had the 57-year old Manhattanite on her show in October, she concluded the interview by urging viewers to set up Google alerts for Schneiderman, because he would be a likely source of "accountability" for banks. 
"People aren't sure what happened but they know that this was a man-made catastrophe there are people who caused bubble and crash," Schneiderman recently told WNYC.
A Skeptical View of Banks
When he took office, Schneiderman was invited to join a small group of state attorneys general known as the executive committee. This group was deep in negotiations with five large mortgage servicers, including Bank of America and JP Morgan Chase.
The idea was to get a settlement with these banks that could bring in billions of dollars in aid for hundreds of thousands of troubled homeowners who'd been served faulty foreclosure documents, some of them including forged signatures.
But the shape of this agreement disturbed Schneiderman. He said banks were looking for a release from investigation and prosecution on other mortgage practices: how huge volumes of bad loans were made to begin with, and the creation of toxic mortgage-backed securities.
"It's sorta like being in criminal case and having someone say, 'OK, you've got me on this gun charge. I'll plead guilty, but I need you to give me a release from anything else I might have done, before you look into anything else I might have done,'" Schneiderman said. "You don't do that."
A Rift With Other Regulators
Instead, Schneiderman started his own investigation into mortgage lending and securitization, using New York's powerful Martin Act, which allows wide powers of subpoena. He also began discussions with like-minded attorneys general — in California, Delaware and other states — who also felt the executive committee wasn't going far enough. In August, tensions came to a head, and Schneiderman left the committee.
Whether he quit or was ejected is a matter of dispute. Schneiderman said he was removed by Iowa Attorney General Tom Miller, a charge Miller, a fellow Democrat, has strongly rebutted.
More than a dozen attorneys in the affirmative litigation unit are now working on the probe. In August, Schneiderman moved to block a settlement with Bank of New York Mellon over pools of loans assembled by Countrywide Mortgage. And more suits could be in the pipeline.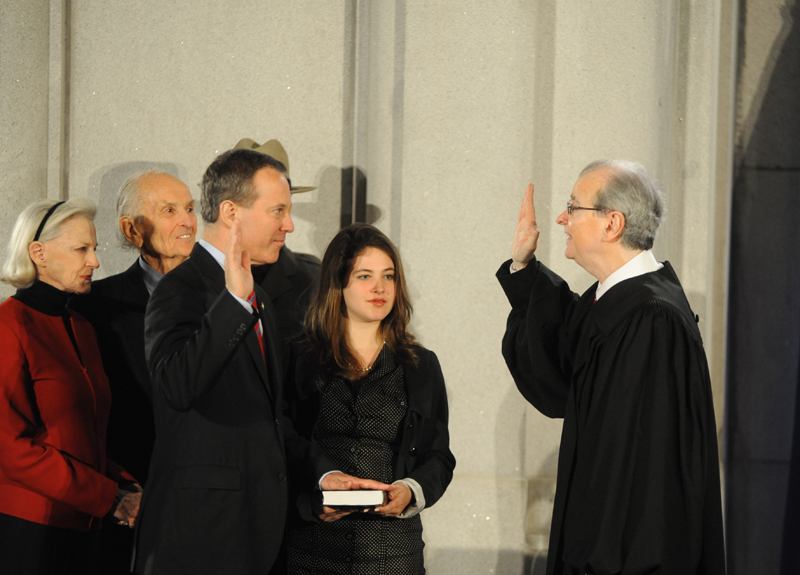 "We are finding really some interesting evidence of misconduct," Schneiderman told WNYC.
But the prospect of a lengthy, probe that might complicate a national settlement is worrying to Terry Goddard, a former Arizona Attorney General who left office in 2011. Goddard said he is sympathetic to Schneiderman's aims, but wants help to come quickly for Arizonans.
"There's too many people at risk within our state that could be benefitted by a perhaps less universal settlement that puts some money on the table and changes procedures," Goddard said.
(Photo: Eric T. Schneiderman Takes Oath Of Office To Become State's 65th Attorney General./Donald Pollard)
The five banks involved in the effort to settle robo-signing claims did not offer specific comment on Schneiderman's investigation, although Bank of America and Ally said they supported efforts to get a 50-state settlement.
Jeffrey Naimon, a banking attorney, hasn't seen the evidence, but he's convinced the investigation will only find bad judgment, not fraud.
"Yeah there were loans that were made that right now we'd look back and them and say, 'You know what? It was a mistake to make those loans.' Was it wrong to make those loans? No," Naimon said.
Even if Schneiderman's investigations result in no new criminal suits, banks could face increased legal exposure from private plaintiffs.
"I can be helped by having AG's fully investigate, fully release the documents, and kind of peel back the onion five or six layers down," said Andrew Stoltmann, a Chicago attorney who has been working for several years on behalf of individuals and funds that claim they were deceived into buying mortgage bonds that were marketed as safe, but which soon plummeted in value.
Evidence made public by Schneiderman and other state AG's could bolster existing civil suits, Stoltmann said, and bring new potential lawsuits to light.
Beginnings
Eric Schneiderman has a salt-and-pepper widow's peak and smooth cheeks that make him look a decade younger than his 57 years.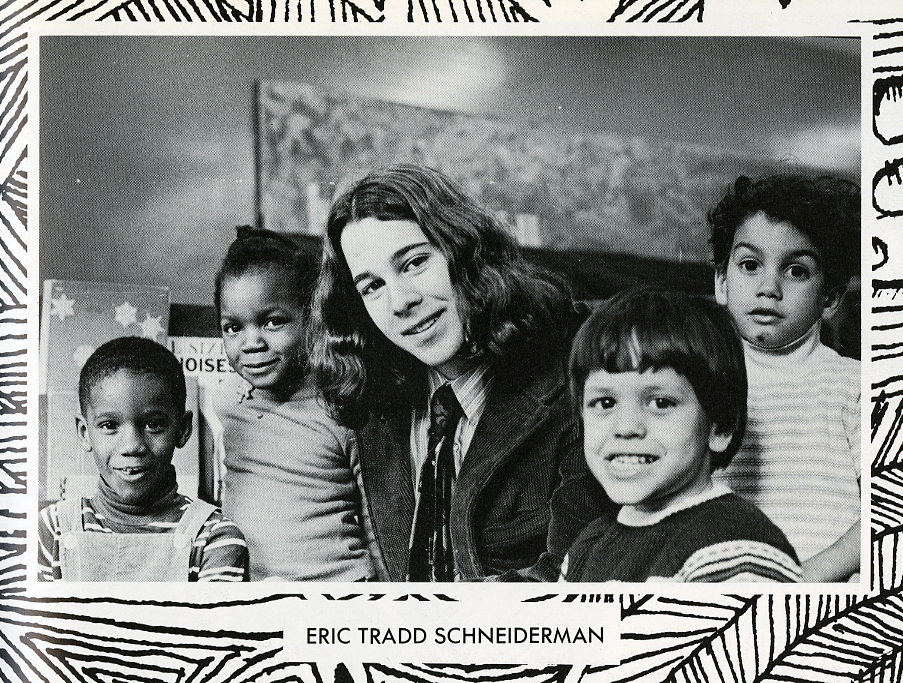 He was born and raised in Manhattan, and grew up in privilege as the son of a successful corporate lawyer. Schneiderman attended private schools, including Trinity School on the Upper West Side. His early experiences with liberal causes include participating in demonstrations against the Vietnam War. 
He and other young men his age year received lottery numbers, but were ultimately not conscripted upon graduation because the draft was abolished in 1973. Schneiderman said it was a "hopeful" time.
(Photo: A yearbook picture of Eric Schneiderman./Courtesy of Trinity School)
Yet by the late 1970s, crime was also rising sharply. As a young man, Schneiderman was mugged several times for lunch money.
Then, while working a convenience store job during college at Amherst, Schneiderman was held up at gunpoint. He described the experience as "not good 'cause the guy's hand was shaking very badly, which scared me more than the fact that he had the gun."
Schneiderman handed over the contents of the cash register. The robber was never caught.
Soon thereafter, Schneiderman pursued his growing interest in criminal justice by taking a job as assistant sheriff in a Western Massachusetts jail. He was dismayed by what he saw.
"There was this growing underclass of folks that were just recycled in and out of the system. One kid there had been born when his mother was doing time," Schneiderman recalled. "It was a pretty stark contrast to the people who could get good lawyers and get access to alternative treatment programs and things like that."
Political Education
Years later, when he got to the state Senate, Schneiderman focused on reforming the justice system. A particular focus was the so-called Rockefeller Laws, which required stiff penalties for selling and possession of even small quantities of illegal drugs.
Although the laws were widely seen as unnecessarily harsh and destructive to many families, overturning them was considered near-impossible. Senators didn't want to appear soft on crime. A Senate colleague, Liz Krueger, said Schneiderman relished the challenge.
"He worked individual members over an extended period of time. He answered their questions," Krueger said. This went on for years. In 2009, the laws were overturned as part of a budget bill. Krueger said Schneiderman's persistence was essential.
"Wear everyone down, I think is one way you could describe the accomplishment on the Rockefeller drug law," Krueger said. "You know, he's exhausting, because he's like an Energizer bunny."
Taking a Long View of Justice
Schneiderman has now largely built the legal team that will be working for him for the next three years. These attorneys are tackling not only the mortgage crisis, but corruption in government, armed gangs and consumer and investor protection issues. One probe, looking into natural gas drillers, seeks evidence companies may have overstated their reserves to shareholders.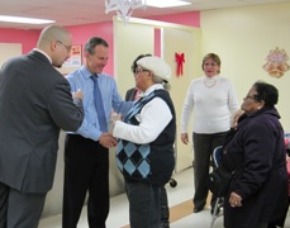 When a new senior lawyer is hired in the Attorney General's office, Schneiderman hands them a book on his intellectual hero. Groundwork: Charles Hamilton Houston and the Struggle for Civil Rights, by Genna Rae McNeil, tells the story of Houston, an African-American attorney living in Washington D.C., in the 1930's and '40s.
"In 1934 [Houston] sat down and wrote a memo to the NAACP saying, 'You know, I'm sick and tired of segregation,'" Schneiderman said. "So he said, 'Here's a memo, it's gonna take decades to do this. But here's how we eliminate segregation.'"
(Photo: AG Schneiderman helps at a food drive for seniors. Ilya Marritz/WNYC)
In a 2008 essay in the journal The Nation, Schneiderman argued that Democrats should place more emphasis on "transformational" ideas that might not bear fruit for many years.
On the heels of the worst financial crisis in a generation, Schneiderman said many public officials have already given up on the idea of justice. But the impulse to move on, he said, is mistaken.
"You wanna know people are held accountable if they engage in misconduct and that no one is above the law," Schneiderman said. Eliot Spitzer, the former attorney general, says one year is not nearly enough time to judge an attorney general's record. Lawsuits take time. But on the mortgage settlement issue, Schneiderman has already forced a change in thinking on the national level.
"We don't know where it will end up, but I think he has been a very good voice saying that the position that had been taken by most state AG's and Washington was not sufficiently rigorous," Spitzer said.
The two men, who have been friends since the mid 1990s, talk by phone from time to time. Spitzer didn't want to characterize their conversations, but admitted that they consist of a certain amount of political intrigue.
"Sad to say our gossip is sometimes about politics, which most people will say, 'Grow up, talk football,'" Spitzer said.
The men share more than gossip, however. Schneiderman's low-key tone belies strong beliefs about equal justice that recall Spitzer's campaigns against prominent Wall Street figures when he was attorney general. Both men were motivated by a feeling that the wealthy and the well-connected must not receive special treatment.
This year, Schneiderman's idealism may be tested. If the executive group of attorneys general reaches a settlement with banks over robo-signing, troubled homeowners could start to get checks in the mail. And if New York is not a part of it, Schneiderman will have to explain why homeowners in his state aren't getting aid, and why it's worth it to continue investigating.
More in:
Ilya Marritz covers business for WNYC.