Roger Sherman is a producer, director, cinematographer, and still photographer. His documentaries have been honored with a host of accolades, including a Peabody Award, an Emmy Award, and two Academy Award nominations.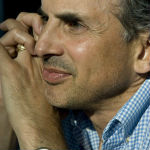 The Road We've Travelled, the Obama campaign film released Thursday night, opens by jumping us back to election night and the days immediately following.
"What do we remember in November of 2008?" Tom Hanks asks in his narration? "Was it this moment?" We see images of cheering, adoring crowds and the Obama family basking in the election win glow. "Or this." We're shown economic panic on Wall Street. A powerful opening.
Davis Guggenheim, the director, is saying to Americans: in case you forgot, because no one's talking about it now, the Democratic administration inherited an economy in a tailspin and two wars. In a pretty powerful way administration insiders bring us behind the scenes and recount what they faced right out of the box. This is done without narration for the most part, which is very effective.
When, in quick succession, Rahm Emanuel tells us the auto industry was days away from economic collapse, and David Axelrod describes a trifecta of looming economic disasters presented to the president by his top economic advisors, it gets your attention. When Obama himself tells us his mother couldn't pay for her cancer treatment, followed by Michelle Obama saying her death "could have been prevented," we don't have to be reminded that the administration is telling us Republicans are fighting hard against the administration's health care initiatives.
And, when Joe Biden takes us into the Situation Room and recounts when President Obama asked each of his top secretaries what their advice was about going after Osama Bin Laden, and their responses are all very measured, it's impossible not to feel the burden of being the President of the United States. "He's all alone," Biden says.
The Republicans, of course, will not agree. But this film is not made for them. It's aimed squarely at independents and undecided voters. It's saying to them: look how hamstrung we were when we took office. And, look at our successes in the midst of out-of-control Washington gridlock. Remember that in November.
As a campaign film I think it's successful. Allowing the people who were there to tell their own stories works, and seventeen minutes is just about the right length. The story doesn't bog down.
The campaign film made for Obama's first term, called American Stories, American Solutions, ran almost a half-hour - far too long. The narration in The Road We've Travelled could have been omitted, in my opinion, for most of the film. It's a bit over0written at times and takes some of the impact away from some scenes. At the end, when the narrator quickly recaps Obama's successes, without going into deep detail, it does it's job. But then you can't make a film with narration only at the end.